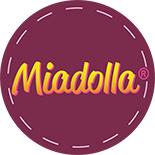 AT-0417 Aroma Seahorse
A seahorse toy made of natural linen with embroidery will be an excellent interior decoration and a pleasant souvenir. The kit contains scented granules with COCONUT flavour, so that the finished toy can be used as a sachet.
The aroma of coconut is creamy sweet, soft and delicate. It reminds of summer, imagining paradise islands, sandy beaches and palm trees warmed by the sun and blown by the sea breeze. This attractive scent relaxes and gives a feeling of harmony and peace.
| | |
| --- | --- |
| Brand | "Miadolla" |
| Article | AT-0417 |
| Product name | Aroma Seahorse |
| Recommended age | older 14 years |
| Package type | Euroslot hanging bag |
| Country of origin | Russia |
| Product | Toy |
| Sewing pattern | grayscale on paper |
| Width, cm | 7 |
| Stuffing | not included |
| Height, cm | 16 |
| Technique | Sewing |
| The kit includes | "Gamma" mouline cotton threads, linen, scented granules, detailed instruction with pictures, fabric 100% cotton, lace ribbon, sewing needle "Gamma", sewing pattern, woven adhesive interfacing |
| Instructions | RU |
Feedback and comments